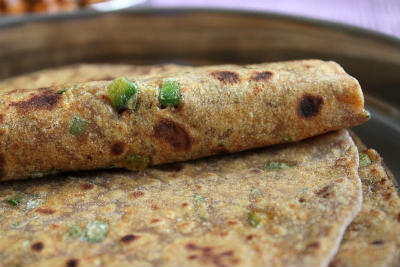 Ingredients:
Wheat Flour – 1 cup
Noodles – 1 cup, cooked as per packet instructions
Capsicum – 1/4 cup, finely chopped
Milk – 2 tsp
Cumin Powder – 1/4 tsp
Garam Masala Powder – 1/2 tsp
Tomato Sauce – 1 tblsp
Oil as required
Salt as per taste
Method:
1. Combine wheat flour, milk, cumin powder, garam masala powder and salt in a bowl.
2. Knead well to a pliable dough consistency.
3. Heat little oil in a pan over medium flame.
4. Add the capsicum and saute well for 2 to 3 minutes.
5. Add tomato sauce and noodles.
6. Stir well and keep aside in a warm place.
7. Make small balls of the dough and roll them into medium sized chapatis.
8. Heat a tawa over medium flame.
9. Cook the prepared chapatis for a minute each side.
10. Place a portion of the noodles mixture in the centre and roll them up tightly.
11. Cook for 30 to 45 seconds, adding a little oil or butter (if desired).
12. Remove and serve at once.
Note: image is for illustration purposes only and not that of the actual recipe.