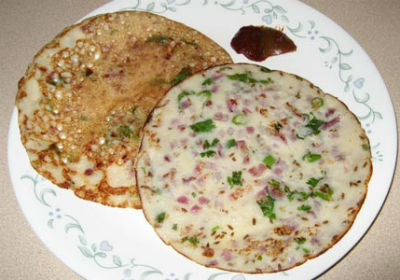 Ingredients:
Raw Rice – 2 cups
Urad Dal – 1/4 cup
Toor Dal – handful
Poha (Aval) – handful
Fenugreek Seeds – 1 tsp
Onion – 1, chopped
Carrot – 1, chopped
Capsicum – 1/4 cup, chopped
Coriander Leaves – handful, chopped
Idli Milagai Podi (Idli Chutney Powder) – 2 tsp
Asafoetida Powder – a pinch
Oil as required
Salt as per taste
For tempering:
Mustard Seeds – 1/2 tsp
Urad Dal – 1 tsp

Method:
1. Combine the rice, urad dal, toor dal, poha and fenugreek seeds.
2. Soak them together for an hour and grind to a smooth batter.
3. Keep aside to ferment for 3 to 4 hours.
4. Heat a tawa over medium flame.
5. Pour a ladleful of the batter and spread.
6. Apply a little oil around the edges and cook till golden brown.
7. Remove and chop the uttapams into small pieces.
8. Heat oil in a separate pan.
9. Fry the mustard seeds and urad dal for 30 seconds.
10. Add the chopped onions and saute well.
11. Add capsicum, carrots and coriander leaves.
12. Mix well and cook for a minute.
13. Add the idli chutney powder, asafoetida powder and salt.
14. Add the chopped uttapam pieces and stir well.
15. Cook for a minute and remove to a serving plate.
16. Serve at once.
Note: image is for illustration purposes only and not that of the actual recipe.