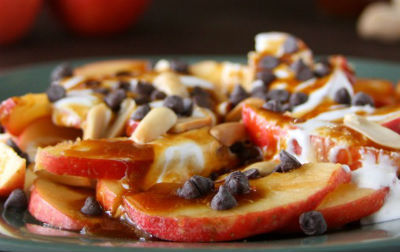 Ingredients:
Apple – 1, cored, sliced or chopped
Lemon Juice – 1/4 tblsp
Caramel Popcorn – 1 tblsp, crushed
Chocolate Chips – 1/4 tblsp
Cashewnuts – 1/4 tblsp, chopped
For the sauce:
Sugar – 1/4 cup
Water – 2 tblsp
Heavy Cream – 2 tblsp
Butter – 1 1/2 to 2 tblsp
Method:
1. Heat a heavy-bottomed pan.
2. Add the sugar and water. Stir until the sugar has dissolved completely.
3. Bring the pan to a boil and simmer till it turns golden.
4. Gently pour the cream and mix well.
5. Bring to a boil and add the butter.
6. Stir and remove. Keep aside to cool.
7. Combine the apples with lemon juice and transfer to a plate.
8. Drizzle the sauce over.
9. Sprinkle the popcorn, chocolate chips and cashewnuts on top.
10. Serve at once.
image credit: chocolatemoosey.com