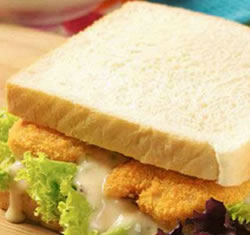 Ingredients:
Mayonnaise – 1/2 cup
Chicken Nuggets – 6
Bread Slices – 4
Lettuce Leaves
Tomato Slice
Onion Ring
Ketchup
Butter
Oil for frying
Black Pepper Powder as per taste

Method:
1. Heat oil in a frying pan.
2. Fry the chicken nuggets until golden brown.
3. Remove and drain excess oil.
4. Spread the mayonnaise on 2 bread slices and butter on the other 2 slices.
5. Add th onion ring, tomato slice and lettuce leaves on 2 slices.
6. Top up with 3 chicken nuggets on each slice.
7. Sprinkle black pepper powder on top and cover with the buttered slices.
8. Serve with ketchup.
image credit: yummy.ph