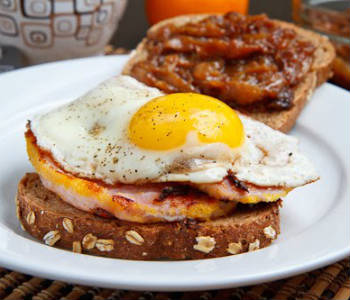 Ingredients:
Bacon – 1, fried, chopped
Egg – 1, fried
Bread Slices – 2
Bacon Spread – 2 to 3 tblsp
Lettuce Leaves – as required (optional)
Butter as required
Onion Rings – 1 (optional)
Slice of Tomato (optional)
Black Pepper Powder as per taste (optional)
Method:
1. Spread the bacon spread on one of the bread slice.
2. Apply butter on the other slice.
3. Add lettuce leaves, tomato and onions rings.
4. Top up with the bacon and egg. Sprinkle pepper powder on top.
5. Cover with the other slice.
6. Serve at once.
image credit: closetcooking.com