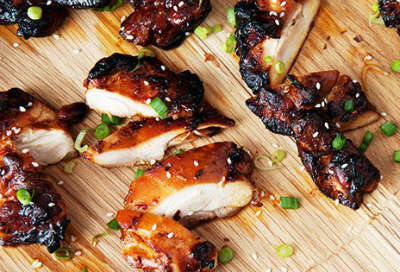 Ingredients:
Chicken (or you can use Chicken Drumsticks) – 250 gms, chopped into bite-sized pieces
Honey – 1 tblsp
Soy Sauce – 1 tblsp
Ginger – 1/2 inch piece, peeled, grated
Garlic – 1 clove, crushed
Sesame Seeds – 1/2 tbslp
Method:
1. Mix the honey, soy sauce, garlic and ginger in a bowl.
2. Brush this all over the chicken pieces and sprinkle sesame seeds on top.
3. Bake the glazed chicken pieces for 10 to 15 minutes in a preheated oven at 175C/350F until golden brown and sticky.
4. Remove and serve with rice.
image credit: mightyspicekitchen.com