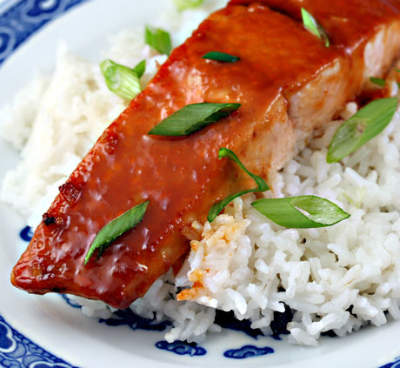 Ingredients:
Salmon Fillets – 3 to 4
Sriracha Hot Sauce – 2 tblsp
Soy Sauce – 3 tblsp
Honey – 3 tblsp
Coriander Leaves – few, chopped
Spring Onions – few, chopped
Method:
1. Combine the sriracha sauce, soy sauce and honey in a bowl.
2. Mix well.
3. Brush half of the sauce on the salmon fillets and place them on a baking tray.
4. Bake in a preheated oven at 350F/175C for 20 to 25 minutes.
5. Baste with the remaining sauce 2 to 3 times during the baking process.
6. Remove and transfer to a plate.
7. Garnish with coriander leaves and spring onions.
8. Serve with rice.
Image credit: theperfectpantry.com
Note: image is for illustration purposes only and not that of the actual recipe.