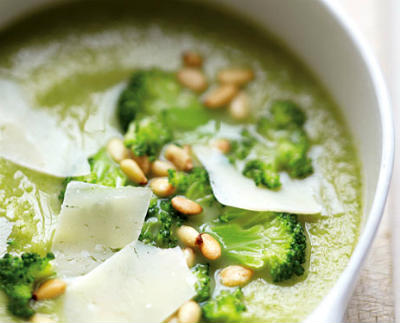 Ingredients:
Broccoli Florets – 125 gms
White Beans – 200 gms, soaked, drained
Vegetable Stock or Water – 1 1/4 cups
Garlic – 1 tsp, minced
White Onions – 1 1/2 tlsp, chopped
Olive Oil – 1 tblsp
Salt as per taste
Black Pepper Powder as per taste
Breadcrumbs or fried bread pieces for garnish
Method:
1. Heat oil in a pan.
2. Saute the onions until translucent.
3. Add minced garlic and fry for 30 to 40 seconds.
4. Add the broccoli florets and saute for 45 seconds.
5. Add the beans and vegetable stock.
6. Simmer for a few minutes.
7. Add salt and pepper powder.
8. Cook until broccoli florets is tender.
9. Transfer to a blender and puree until creamy.
10. Transfer to a pan and bring to a boil.
11. Pour into individual serving bowls and garnish with breadcrumbs
12. Serve.
image credit: wholeliving.com