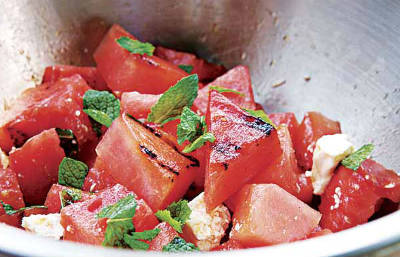 Ingredients:
Watermelon – 1/2, large, cut into medium size pieces
Cheese – 1/4 cup, crumbled
Mint Leaves – 2 tblsp, chopped
Sea Salt as per taste
Black Pepper Powder as per taste
Oil for brushing

Method:
1. Brush the watermelon pieces with the oil and grill them on a preheated grill for 2 minutes on each side.
2. Transfer to a plate.
3. Sprinkle cheese, salt, pepper powder and mint leaves.
4. Serve at once.