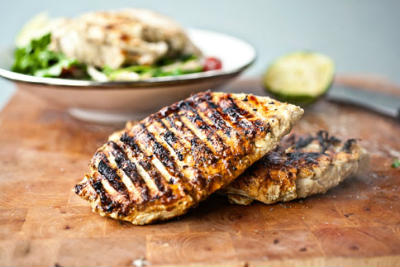 Ingredients:
Chicken Breasts – 250 gms, boneless, skinless
Olive Oil – 1/2 tblsp
For the marinade:
Plain Yogurt – 1/2 cup
Garlic – 1 clove, small, chopped
Lemon Zest – 3 tblsp
Lemon Juice – 1/4 cup
Sea Salt – 1/2 tblsp
Black Pepper Powder – 1 tsp
Method:
1. Mix all the marinade ingredients in a bowl.
2. Flatten the chicken breasts using a rolling pin and place them on a large shallow bowl.
3. Add the marinade and mix well. Keep the bowl in the fridge for an hour.
4. Heat a grill over medium flame.
5. Drizzle the olive oil and cook the marinated chicken breasts for 4 to 5 minutes each side.
6. Remove and serve at once with cucumber salad.
image credit: bonappetit.com