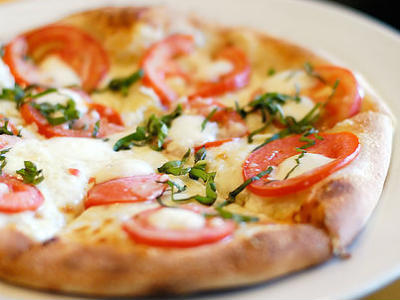 Ingredients:
Maida – 200 gms
Instant Yeast – 1 tsp
Sugar – 1/2 tblsp
Water – 1/3 cup
Olive Oil – 1 tblsp
Salt – 2 tsp
For the toppings:
Tomato – 1, sliced
Onion – 1, finely sliced
Basil Leaves – 2 to 3, sliced
Parmesan Cheese – 2 tblsp, grated
Salt as per taste
Pepper Powder as per taste
Extra-Virgin Olive Oil – 2 tblsp
Method:
1. To make the pita bread, combine the maida, yeast, sugar, water, salt and olive oil in a bowl.
2. Knead well for 15 minutes until smooth.
3. Keep aside for 30 to 40 minutes or until the dough has doubled in size.
4. Roll the dough into a log and divide into 6 to 8 equal pieces.
5. Keep aside for another 30 minutes.
6. Shape the dough into rounds to make a thin pita.
7. Transfer the pitas to a hot baking tray and bake for 3 to 4 minutes in a preheated oven at 225C/450F.
8. Ensure the pitas do not brown.
9. Remove and cover immediately so that no crusts form.
10. To make the pizzas, place some of the tomato slices, onions and basil on the pita.
11. Sprinkle cheese, salt and pepper.
12. Drizzle with olive oil.
13. Place the pizzas in a preheated oven and bake for 10 minutes at 450F/225C or until golden brown.
14. Remove and serve at once.
image credit: everycollegegirl.com