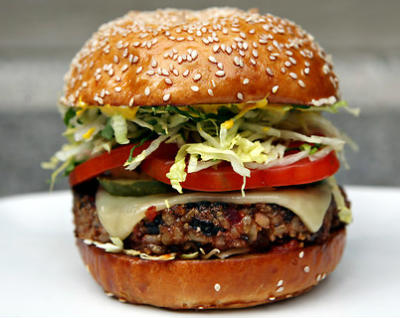 Ingredients:
Chicken – 250 gms, minced or ground
Button Mushrooms – 1/2 cup
Carrots – 2 tblsp, grated
Garlic – 1/2 tsp, minced
Radish – 2 tblsp, chopped
Lettuce Leaves – few, chopped
Pepper Powder as per taste
Salt as per taste
Burger Buns – 2 to 3, halved, toasted
Tomato – 1, sliced
Onion – 1, sliced
Tomato Ketchup
Mustard to serve
Method:
1. Mix the chicken, mushroom, carrots, garlic and radish in a bowl.
2. Sprinkle salt and pepper.
3. Mix well and shape them into medium size patties.
4. Heat oil in a non-stick pan.
5. Fry the prepared patties on both sides till golden brown.
6. Place the fried patties between a toasted bun.
7. Add a slice of tomato, onion, lettuce leaves, ketchup and mustard.
8. Serve at once.
Tip: If desired add a cheese slice.