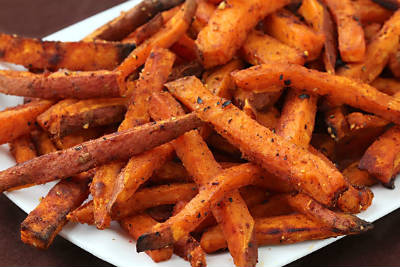 Ingredients:
Sweet Potatoes – 350 gms, peeled, cut into thin sticks
Oil for deep frying
For garnishing:
Paprika
Sea Salt

Method:
1. Add the sweet potato sticks to a bowl of ice cold water for 10 minutes. Drain and pat fry.
2. Heat oil for deep frying in a pan.
3. Add the sweet potatoes and fry until golden.
4. Remove and drain excess oil.
5. Sprinkle salt and paprika.
6. Serve.
Tip: You can also make this in microwave oven. Place the sweet potatoes on a baking tray. Drizzle 2 tblsp oil and bake the sweet potatoes at 180C until golden. Sprinkle salt and paprika. Serve.