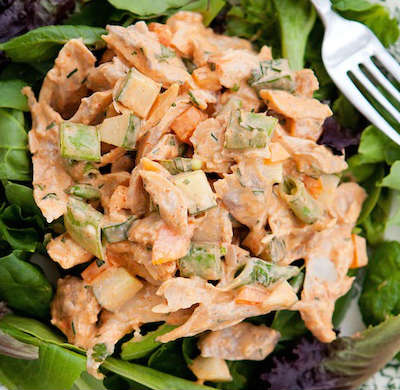 Ingredients:
Skinless Chicken Breast – 1/2 cup, roasted, cubed
Baby Spinach Leaves – 1/2 cup
Dijon Mustard – 1 tsp
Lemon Juice – 1/2 tblsp
Jalapeno (or Green Chillies or Red Chilli Flakes) – 1/4 tsp, chopped
Celery Stalk – 1/4, medium
Black Pepper Powder – a pinch
Method:
1. Arrange the spinach leaves on a plate.
2. Combine all the other ingredients in a bowl and spread them on the spinach leaves.
3. Sprinkle some pepper powder.
4. Serve immediately.
Note: image is for illustration purposes only and not that of the actual recipe.
Image credit: food52.com
Subscribe to our Newsletter
Receive the latest recipes & kitchen tips !