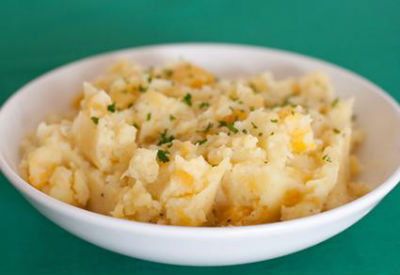 Ingredients:
Turnips – 350 gms, washed, tops cut and discarded
Water – 2 to 3 tblsp
Butter – 1/2 tblsp, unsalted
Oil – 1 to 1 1/2 tblsp
Turmeric Powder – 1/4 tsp
Red Chilli Powder – 1/4 tsp
Salt as per taste
Black Pepper Powder – a pinch or as per taste
Method:
1. Peel the turnips and cut them into 6 to 8 pieces.
2. Heat oil in a pan over medium flame.
3. Add the turnips, turmeric powder, red chilli powder and stir well.
4. Add salt and pepper powder.
5. Mix well until combined.
6. Reduce flame to low and cover the pan with a lid.
7. Cook for 8 to 10 minutes, stirring from time to time.
8. Add the water and cook for another 20 minutes or until the turnips are soft and mashed.
9. Keep stirring from time to time.
10. Add the butter and stir to mix well.
11. Transfer to a serving dish.
12. Serve.
13. Sprinkle a bit of crushed coriander or mint leaves if desired.
image credit: cooking.lovetoknow.com