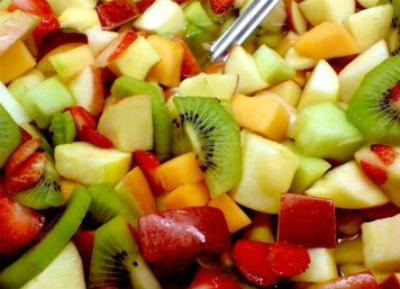 Ingredients:
Guava – 3 to 4, chopped
Apple – 2, chopped
Pear – 2, chopped
Plums – 2, chopped
Grapes – 2 cups
Banana – 2, peeled, sliced
Pomegranate Seeds – 1 cup
Red Chilli Powder – 1/2 tsp
Salt as per taste
Black Pepper Powder – 1/2 tsp
Juice of 2 small Limes or 1 large Lime

Method:
1. Combine all the chopped fruits and grapes in a bowl.
2. Add the sliced bananas and sprinkle red chilli powder, salt, pepper powder.
3. Add the lime juice and toss to mix well.
4. Garnish with the pomegranate seeds.
5. Serve at once or serve chilled.
Tip: Apart from the mentioned fruits, feel free to experiment with fruits of your choice and taste.
Note: image is for illustration purposes only and not that of the actual recipe.