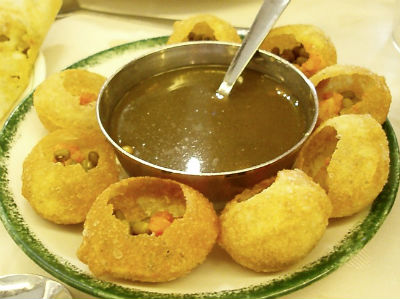 Ingredients:
Pani Puris – 1 packet
Sweet and Sour Chutney – 1 1/2 cups
Water – 4 cups
Salt as per taste
For the filling:
Kala Chana (Black Chickpeas) – 3/4 cup, boiled
Potatoes – 2 1/2 cups, boiled, peeled, mashed
Fried Cumin Powder – 1/2 tblsp
Red Chilli Powder – 1/4 tblsp
Coriander Powder – 3 tblsp, finely chopped
Method:
1. Mix the sweet and sout chutney with water.
2. Add salt and mix well.
3. Keep aside until needed. This is puchka paani (puchka water).
4. Combine all the ingredients for the filling and mash well.
5. To serve, make a small hole in the puris and add a small ball of the filling inside.
6. Dip the puris in the chutney and consume at once.
7. Alternatively, serve 5 to 6 puris in a plate with a cup of the puchka paani.