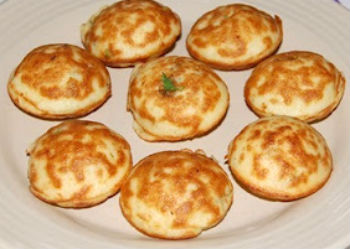 Ingredients:
Raw Rice – 1/2 cup
Parboiled Rice – 1/2 cup
Urad Dal – 1/4 cup
Eggs – 4
Dry Red Chillies – 2
Cumin Seeds – 1/4 tsp
Oil – 250 ml
Salt as per taste

Method:
1. Soak the raw rice, parboiled rice and dal together for 3 hours.
2. After 3 hours, grind them together with cumin seeds, red chillis and salt.
3. Break the eggs into the batter and mix well.
4. Heat oil in a pan.
5. Pour a ladleful of the batter and cook on both sides until golden brown.
6. Remove and drain excess oil.
7. Serve hot.
Note: image is for illustration purposes only and not that of the actual recipe.
Image Credit: 7aumsuvai.com
Subscribe to our Newsletter
Receive the latest recipes & kitchen tips !