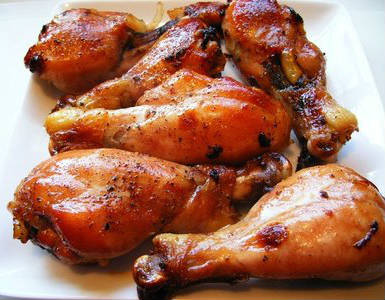 Ingredients:
Chicken Legs – 4
Honey – 1/4 cup
Dijon Mustard – 1 1/2 tblsp
Tabasco Sauce (or any Hot Chilli Sauce) – 1/2 tsp
Sea Salt as per taste
Black Pepper Powder as per taste
Method:
1. Sprinkle salt and pepper all over the chicken.
2. Place it on a baking tray lined with foil.
3. Mix the honey, mustard and tabasco sauce in a bowl.
4. Pour into a pan over low-medium flame and cook until it thicken slightly.
5. Remove and keep aside.
6. Brush the chicken legs with half of the sauce and place them back into the tray.
7. Bake for 20 to 25 minutes at 350F.
8. Remove and brush with the remaining sauce.
9. Bake for another 20 minutes or until the legs are golden brown.
image credit: chimegscoffeebreak.blogspot.com