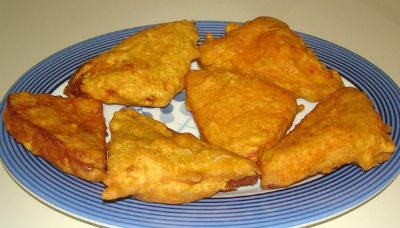 Ingredients:
Bread Slices – 10, crusts removed, cut into 4 triangles
Gram Flour – 100 gms
Red Chilli Powder – 1 tsp
Rice Flour – 50 gms
Oil as required
Salt as per taste
Method:
1. Mix the gram flour, rice flour, salt, red chilli powder and enough water to make a batter of pouring consistency.
2. Heat oil for deep frying.
3. Dip the bread pieces in the batter and fry them till golden brown.
4. Remove and drain excess oil.
5. Serve hot.
image credit: http://www.flickr.com/photos/eatwellin/6132297270/in/photostream/