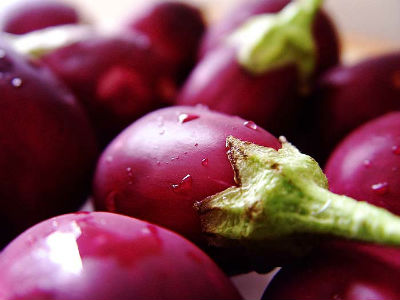 Ingredients:
Violet Brinjals – 500 gms, chopped into thin long strips
Salt as per taste
For Seasoning:
Asafoetida Powder –  a pinch
Mustard Seeds – 1 tsp
Urad Dal – 1 tsp
Curry Leaves – few
Oil – 1 tblsp
Grind to a powder:
Bengal Gram Dal – 1/4 cup
Coriander Seeds – 1/4 cup
Dry Red Chillies – 5 to 6
Method:
1. Heat oil in a pan.
2. Fry the mustard seeds, asafoetida powder, urad dal and curry leaves for a minute.
3. Add salt and the brinjal pieces.
4. Cover with a lid and cook on low flame till the brinjals are tender.
5. Add the ground powder and continue to fry on low flame for another 2 minutes.
6. Remove and serve with rice.