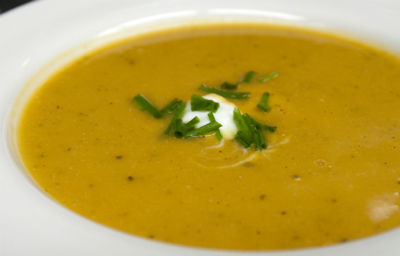 Ingredients:
Colocasia – 450 gms, large, peeled, diced
Whipping Cream – 1/3 cup
Butter – 1 tblsp + extra
Vegetable Stock or Water – 1 1/2 cups (or more if desired)
Dry Sherry (or Apple Juice) – 2 tblsp
Red Chilli Powder – a pinch (or Red Chilli Flakes)
Salt as per taste
Black Pepper Powder as per taste
Method:
1. Heat the stock in a pan over medium flame.
2. Add the chopped colocasias and bring to a boil.
3. Cook for 15 minutes or until the yams are very tender.
4. Grind this in a blender to a puree until smooth.
5. Transfer to a pan and add all the other ingredients.
6. Heat through and transfer to individual serving bowls.
7. Serve hot with a dollop of butter on top.
Note: image is for illustration purposes only and not that of the actual recipe.