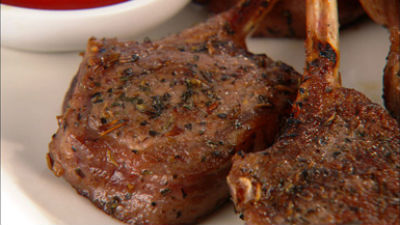 Ingredients:
Lamb Chops – 3
Thyme – 1/2 tsp
Rosemary – 1/2 tsp
Garlic – 1 clove, minced
Red Chilli Flakes – a pinch
Salt as per taste
Olive Oil – 1 tblsp
Method:
1. Grind together the garlic, rosemary, thyme, chilli flakes and salt. Reserve a pinch for garnish.
2. Add olive oil and grind to a smooth paste.
3. Rub this on the lamb chops and marinate for 2 hours in the fridge.
4. Heat a large pan over high flame.
5. Cook the chops for 3 minutes on each side.
6. Remove and sprinkle a pinch of the mixed herbs.
7. Serve with rice.
Tip: You can also use readymade Dried Mixed Herbs.