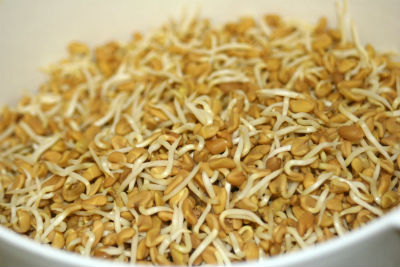 Ingredients:
Vendhayam (Methi Seeds) – 1 cup, soaked overnight
Mustard Seeds – 1/2 tsp
Oil – 1/2 tsp
Urad Dal – 1/2 tsp
Dry Red Chillies – 2, small
Coconut – 1 tsp, grated
Sugar – 1/4 tsp
Salt as per taste
Method:
1. Drain excess water from the vendhayam.
2. Transfer to a hot pack casserole or food warmer and keep covered for 1 day so that the seeds sprout.
3. Heat oil in a pan.
4. Fry the mustard seeds, urad dal and red chillies.
5. Add the sprouted methi seeds and sprinkle a little water.
6. Cover and cook for 5 minutes on low flame.
7. Add salt, coconut and sugar.
8. Stir well and serve.
Tip: You can also use sprouted methi seeds available in major supermarkets.