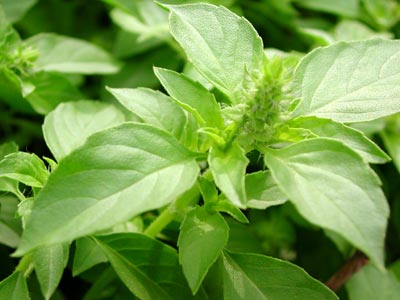 Ingredients:
Thulasi (Basil Leaves) – 1 cup, washed, cleaned, ground
Black Peppercorns – 2 tsp
Cumin Seeds – 1 tsp
Toor Dal – 1 tsp
Coriander Seeds – 1 tsp
Tamarind Extract – 1 cup
Asafoetida Powder – little
Mustard Seeds – little
Oil as required
Salt as per taste
Method:
1. Soak the peppercorns, cumin seeds, coriander seeds and toor dal together.
2. Add salt and asafoetida powder to tamarind extract.
3. Transfer to a pan and bring to a boil over medium flame.
4. Grind the soaked ingredients and add to the tamarind extract.
5. Add the ground thulasi and simmer for a few minutes.
6. Meanwhile, heat little oil in a small frying pan.
7. Fry the mustard seeds till it splutters and pour this into the rasam.
8. Serve hot.