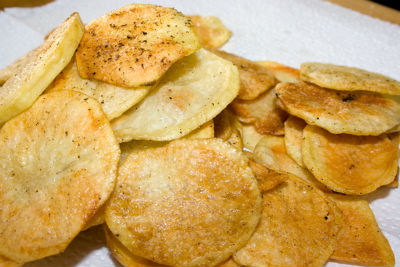 Ingredients:
Potatoes – 4, large, peeled, sliced thinly
Olive Oil – 6 tblsp
Salt as per taste
Black Pepper Powder as per taste

Method:
1. In a large bowl, add the sliced potatoes.
2. Add oil and mix well.
3. Sprinkle salt and black pepper powder.
4. Toss well.
5. Arrange the potato slices in a single layer on a baking tray lined with parchment paper.
6. Place the tray in a preheated oven.
7. Bake for 12 to 15 minutes at 400F or until golden brown.
8. Season lightly with salt and pepper powder.
9. Cool.
10. Serve.