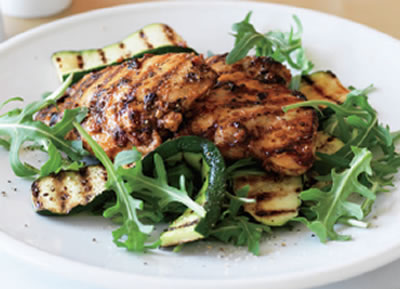 Ingredients:
Chicken Thighs – 2, sliced
Zucchini – 3, sliced
Lemon Rind – 1/2 tsp, finely grated
Tomato Sauce – 2 to 3 tblsp
Oil as required
Method:
1. Grease a grill pan with oil and grill the zucchini slices until tender.
2. You can also use a grill or barbecue and apply oil to the zucchini slices. Then grill until tender.
3. Transfer to a bowl and sprinkle with the lemon rind.
4. Cover and keep aside.
5. Combine the chicken slices and sauce in another bowl.
6. Heat a grill pan over medium flame.
7. Cook the chicken until done.
8. Brush occasionally with the tomato sauce.
9. Transfer to a serving plate and serve with the zucchini.