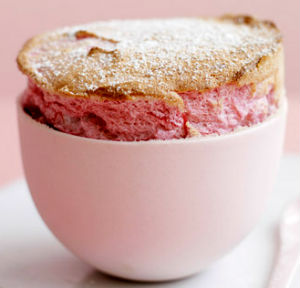 Ingredients:
Rhubarb – 3/4 cup, coarsely chopped
Egg Whites – 2
Caster Sugar – 1/2 tblsp
Sugar – 1/4 cup, fine
Method:
1. Combine rhubarb, 1 tblsp of sugar and 1 tblsp of water.
2. Cook in a small pan over medium flame until it thickens.
3. Transfer the mixture to a small bowl.
4. Beat the egg whites until soft peaks form.
5. Add the remaining sugar and beat well.
6. Add this to the rhubarb mixture.
7. Spoon this into greased ovenproof dishes lined with 1 tblsp of sugar.
8. Bake in a preheated oven at 400F/375F for 12 minutes.
9. Remove and cool.
10. Sprinkle some caster sugar on top and serve.