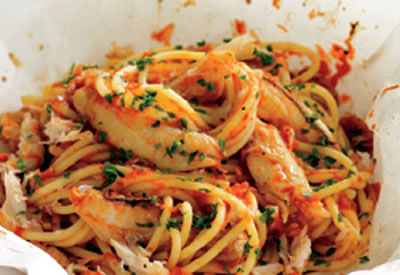 Ingredients:
Spaghetti – 200 gms
Crab Meat – 150 gms, cooked
Tomato Pasta Sauce – 1 cup
Parsley or Mint Leaves – 1 tblsp, finely chopped

Method:
1. Cook the spaghetti in a large pan of boiling water until tender.
2. Drain and keep aside.
3. In an another bowl, mix the crabmeat, parsley and tomato sauce.
4. Add 1/4 cup of water and the cooked pasta.
5. Mix well.
6. Transfer this to an ovenproof dish and cover with a lid.
7. Place this in an oven at 350F for 10 to 15 minutes.
8. Remove and transfer to a serving plate.
9. Serve.