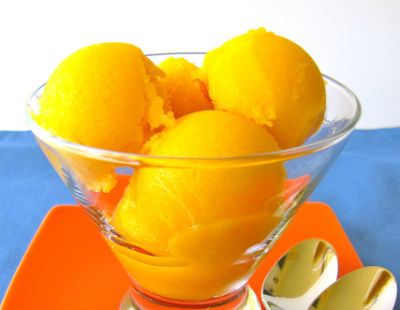 Ingredients:
Mangoes – 4 cups, chopped
Sugar – 6 tblsp
Water – 1 cup
Mixed Fruits for garnish (grapes, pineapple, oranges)
Method:
1. Combine the sugar and water in a bowl.
2. Bring to a boil and keep aside to cool.
3. Add the mango pieces to the sugar syrup and blend well for 3 to 5 minutes in a blender.
4. Transfer this to the freezer until smooth and firm.
5. If you have an ice cream maker, then freeze this in the machine for 30 to 45 minutes.
6. Garnish with mixed fruits.
7. Serve.
image credit: susikochenundbacken.blogspot.com