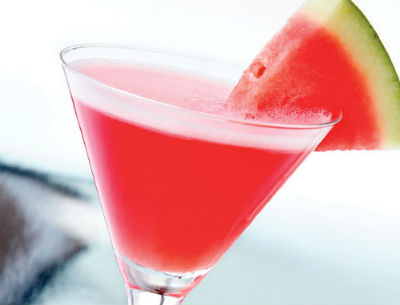 Ingredients:
Watermelon – 2 cups, chopped
Vodka – 4 tblsp
Vermouth – 4 tsp
Sugar Syrup – 2 tblsp
Ice cubes as required
Mint Leaves – few, chopped

Method:
1. Blend the watermelon pieces to a smooth puree.
2. Transfer this to a cocktail shaker with vodka, sugar syrup, vermouth and mint leaves.
3. Add some ice cubes and shake well for a minute.
4. Strain this into a martini glass.
5. Garnish with a watermelon slice and serve.