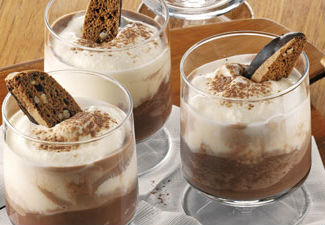 Ingredients:
Vanilla Ice Cream – 2 cups
Cream Cheese – 225 gms
Sour Cream – 3 tblsp
Whipping Cream – 2 tblsp, heavy
Heavy Cream – 1 tblsp
Breadcrumbs or Crackers – 2 tblsp, crumbled
Instant Coffee Powder – 2 tsp, dissolved in 2 tblsp boiling water
Cocoa Powder
Method:
1. Beat together the cream cheese, sour cream and whipping cream until smooth.
2. In a blender, combine the ice cream, cream cheese mixture and heavy cream.
3. Blend for a minute and pour into a serving glass
4. Crumble the crackers or breadcrumbs into the coffee and add this to the serving glass.
5. Sprinkle cocoa powder on top.
6. Serve at once.