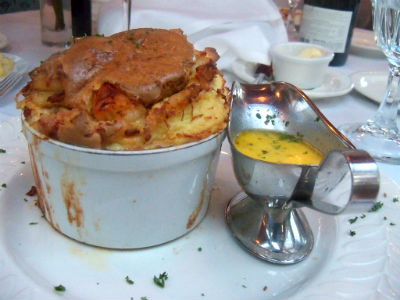 Ingredients:
Crabmeat – 115 gms, chopped
Cheddar Cheese – 1/2 cup, shredded
Monterey Jack Cheese – 1/2 cup
Eggs – 3
Sour Cream – 1/2 cup
Butter – 1/2 tblsp, melted
Maida – 3 to 4 tblsp
Baking Powder – 1/4 tsp
Salt as per taste
Method:
1. Grease a small microwave safe bowl with oil.
2. Add the crabmeat and the cheeses in alternate layers.
3. Combine the eggs, sour cream, butter, maida, baking powder and salt in a blender.
4. Blend until smooth.
5. Pour this onto the bowl and place it in a preheated oven at 375F.
6. Bake for an hour or until eggs are set.
7. Remove, cool and serve warm.
image credit: http://flic.kr/p/8kU6Pi
Subscribe to our Newsletter
Receive the latest recipes & kitchen tips !