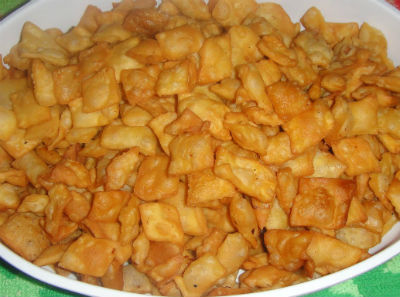 Ingredients:
Wheat Flour – 1 cup
Maida – 1 cup
Pepper Powder – 3 tsp
Ghee – 1/4 cup
Asafoetida Powder – 1/2 tsp
Oil as required
Salt as per taste
Method:
1. Combine ghee and salt together in a bowl.
2. Add wheat flour, maida, pepper powder and asafoetida powder.
3. Add enough water and mix well.
4. Roll into thin chapatis and cut them into small diamond shapes.
5. Heat oil in a frying pan till smoking.
6. Deep fry till golden brown.
7. Remove and drain excess oil.
8. Serve as a snack.
Note: image is for illustration purposes only and not that of the actual recipe.