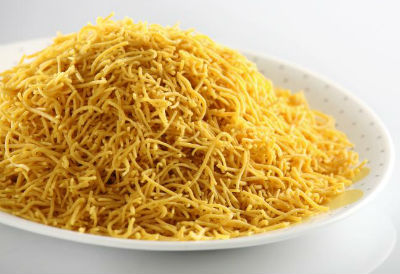 Ingredients:
Roasted Gram Powder – 1 cup
Gram Flour – 1 cup
Rice Flour – 1 cup
Asafoetida Powder – 1/2 tsp
Omam (Carom Seeds) – 2 tsp
Red Chilli Powder – 2 tsp
Oil as required
Salt as per taste
Method:
1. Soak the carom seeds in water for a few minutes.
2. Then grind well and strain the water.
3. Add roasted gram flour, gram flour, rice flour, asafoetida powder, salt and red chilli powder to the omam water.
4. Mix well.
5. Heat oil in a frying pan.
6. Add some of the dough to a om podi maker and press over hot oil.
7. Cook on both sides till golden and light brown.
8. Remove and drain excess oil.
9. Serve as a snack.