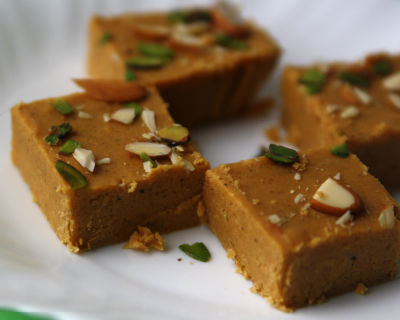 Ingredients:
Green Gram – 1 cup, roasted, ground to a powder
Sugar – 1 cup, powdered
Ghee – 1/2 cup
Cardamom Powder – 1/2 tsp
Cashewnuts – 1 tsp
Raisins – 1 tsp
Method:
1. Mix powdered sugar, cardamom powder and green gram powder in a bowl.
2. Heat ghee in a pan.
3. When it starts smoking add cashewnuts and raisins.
4. Fry for a minute and add to the mixed powders.
5. Mix well and transfer to a plate.
6. Press well with the back of a cup and keep it in the fridge.
7. Do not freeze.
8. After 2 hours, the burfi should have been set.
9. Cut into desired shapes.
10. Store in an air-tight container.
image credit: http://whatscookingmom.in