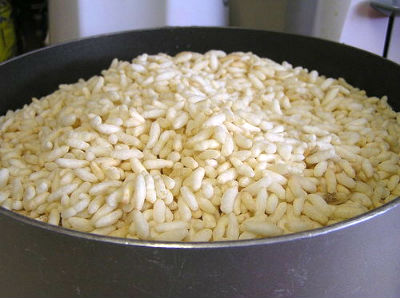 Ingredients:
Arisi Pori (Puffed Rice) – 1/2 cup
Jaggery – 1 cup, powdered
Cardamom Powder – 1/2 tsp
Almonds – 1/2 cup
Roasted Peanuts – 3/4 cups
Roasted Gram – 3/4 cup
Ghee – 2 tsp
Method:
1. Combine the pori, almonds, peanuts and roasted gram in a bowl.
2. Grind them to a fine powder and transfer to a big bowl.
3. Boil some water in a pan. Add powdered jaggery.
4. Bring to a boil.
5. Add cardamom powder, ghee and ground powder.
6. Stir to mix well and remove when it thickens.
7. Pour this onto a greased flat plate and allow it to cool.
8. Cut into desired shapes.
9. Store in an air-tight container.