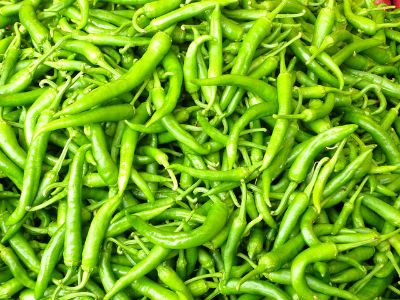 Ingredients:
Green Chillies – 200 gms, washed, chopped
Tamarind – a small lemon sized ball
Salt as per taste
Gingelly Oil – 1/2 cup
Asafoetida  – 1 tsp
Mustard Seeds – 1 tsp
Jaggery – a small piece (optional)
Method:
1. Heat 1/4 cup of oil in a pan.
2. Add tamarind, green chillies and salt.
3. Stir and cook for 2 minutes.
4. Remove and keep aside.
5. Then grind to a smooth paste without adding water.
6. Heat the remaining oil.
7. Fry asafoetida and mustard seeds till the seeds start to splutter.
8. Add the ground paste and stir-fry for another 2 minutes.
9. Add jaggery and cook till oil starts to separate.
10. Serve with rice.