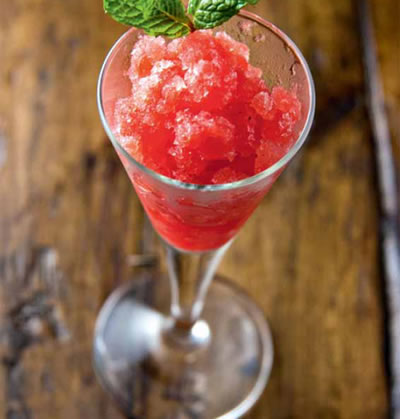 Ingredients:
Watermelon – 2 cups, seedless, cubed
Mint Leaves – 2 sprigs
Rosewater – 1 1/2 tblsp
Water – 3 to 4 tblsp
Sugar – 3 tblsp

Method:
1. Heat a small pan over medium flame.
2. Add the sugar, water and mint leaves.
3. Stir well till the sugar dissolves completely.
4. Strain this over a bowl and discard the mint leaves.
5. Grind the watermelon pieces to a puree.
6. Add this to the sugar syrup and mix.
7. Pour this into a bowl and keep it in the fridge for 2 hours.
8. Remove from the freezer and beat with a fork for 15 seconds.
9. Return to the freezer for another 2 hours.
10. Beat in-between every 30 minutes and freeze until firm.
11. Serve in glass bowls garnished with mint leaves.