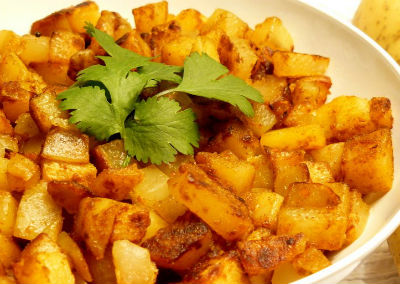 Ingredients:
Potatoes – 250 gms
Oil – 1 tsp or as required for frying
Salt as per taste
Red Chilli Powder – 1/4 tsp or as per taste
Method:
1. Chop the potatoes into small pieces and soak them in water for a few minutes.
2. Heat oil in a pan over medium flame.
3. Drain the water and add the potatoes to the pan.
4. Fry till the potatoes become golden and all water has evaporated.
5. Sprinkle salt and chilli powder.
6. Simmer for a minute or two.
7. Transfer to a serving plate.
8. Serve with cooked rice.