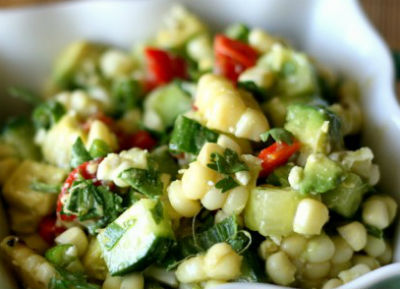 Ingredients:
Corn Kernels – 1 cup, grilled or dry roasted
Avocado – 1, small, sliced
Coriander Leaves – handful, chopped
Lime Juice – 1 tblsp
Olive Oil – 3/4 tblsp
Sea Salt – a pinch
Method:
1. Combine the corn kernels with avocado and coriander leaves in a bowl.
2. Add lime juice, olive oil and mix well.
3. Sprinkle some salt and coriander leaves.
4. Using a spatula, mix them well.
5. Transfer to individual serving bowls.
6. Serve.
Tip: Add halved cherry tomatoes if desired.