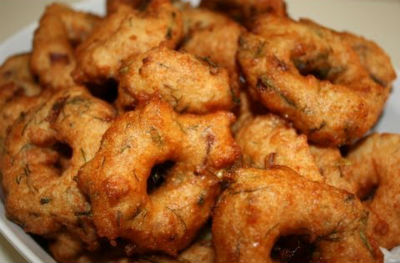 Ingredients:
Godhumai Rava (Wheat Rava) – 1 cup, soaked
Paneer – 1/4 cup
Ginger – 1 inch piece, grated
Soya Flour – 2 tsp
Rice Flour – 3 tsp
Onion – 1, finely chopped
Curry Leaves – few
Water as required
Oil as required
Salt as per taste
Method:
1. Heat oil in a pan over medium flame.
2. Mix wheat rava, soya flour and rice flour in a bowl.
3. Add salt, paneer and mix well.
4. Add onions, ginger, little water and curry leaves.
5. Mix well.
6. Make small balls and flatten them on your palms as desired.
7. Deep fry in hot oil and remove.
8. Drain excess oil.
9. Serve hot with chutney of choice.
Note: image is for illustration purposes only and not that of the actual recipe.