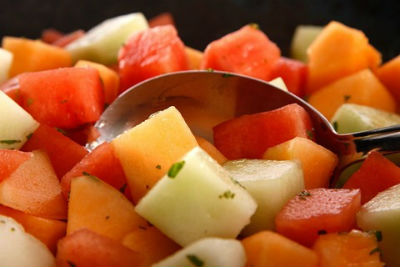 Ingredients:
Watermelon – 250 gms
Cantaloupe Melon – 250 gms
For the dressing:
Red Chilli Powder – a small pinch
Sugar – 3/4 tblsp
Salt – a pinch
Black Pepper Powder as per taste
White Wine Vinegar – 1/2 tsp
Dijon Mustard – 1/2 tblsp
Olive Oil – 2 1/2 tblsp

Method:
1. Combine all the dressing ingredients in a bowl until smooth.
2. Using a melon baller, extract small balls from both the melons and transfer them with their juices to a large bowl.
3. Spoon over the dressing.
4. Toss well to mix evenly.
5. Keep it in the fridge for about 15 minutes.
6. Serve.

Tip: If you do not have a melon baller, cut them into small chunks.