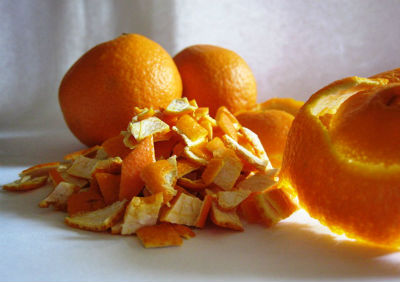 Ingredients:
Skin of 1 medium Orange – finely chopped
Bengal Gram Dal – 1 tsp
Urad Dal – 1 tsp
Coriander Seeds – 2 tsp
Dry Red Chillies – 4
Jaggery – a small sized ball, powdered
Asafoetida Powder – a pinch
Gingelly Oil – 1 tblsp
Mustard Seeds – 1/2 tsp
Turmeric Powder – a small pinch
Tamarind Extract – 1/2 to 1 cup
Salt as per taste
Method:
1. Heat little oil in a pan.
2. Fry the dals, coriander seeds, dry chillies and asafoetida for a minute.
3. Grind together to a fine powder and keep aside.
4. Heat the remaining oil and fry the mustard seeds, asafoetida and orange peels.
5. Add the tamarind extract, ground powder, jaggery, turmeric powder and salt.
6. Bring to a boil and remove.
7. Serve hot.