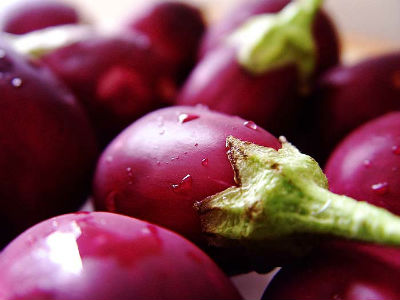 Ingredients:
Brinjals – 2, cubed
Garlic – 3 cloves
Spring Onions – 2, small, finely chopped
Ginger – 3 slices, minced
Chilli Paste – 1/2 tblsp
Water – 2 tblsp
Oil – 1 1/2 tblsp
For the sauce:
Soy Sauce – 1 tblsp
Chinese Rice Wine – 1/2 tblsp
Sugar – 1/2 tblsp
Vinegar – 1/2 tsp
Salt as per taste
Sesame Oil – 1/2 tsp
Method:
1. Heat oil in a pan over high flame.
2. Stir-fry the brinjals, garlic and ginger.
3. Mix together all the sauce ingredients and keep aside.
4. Add the spring onions to the pan along with chilli paste and cook for a minute or two.
5. Add the sauce and stir well.
6. Add water and cover the pan with a lid.
7. Reduce flame to low and cook for 5 minutes.
8. Transfer to a serving dish.
9. Serve hot.