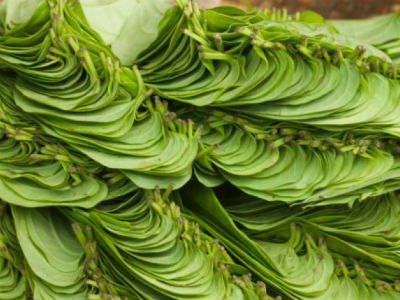 Ingredients:
Betel Leaf (Vetrilai) – 3
Mustard Seeds – 1/2 tsp
Black Pepper – 1/2 tsp
Cumin Seeds – 1/2 tsp
Garlic – 2 cloves
Small Onions – 4, chopped
Turmeric Powder – a small pinch
Juice of 1/2 Lemon
Rice – 1 cup, cooked
Oil – 1 tsp
Salt as per taste
Method:
1. Combine and grind together the betel leaves, pepper and cumin seeds.
2. Keep aside.
3. Heat oil in a pan over medium flame.
4. Fry the mustard seeds till it splutters.
5. Add garlic, small onions and turmeric powder.
6. Mix well and stir-fry for a minute.
7. Add the ground powder, rice and salt.
8. Mix well and add the lemon juice.
9. Stir to combine all ingredients.
10. Transfer to a serving plate and serve hot.
Note: image is for illustration purposes only and not that of the actual recipe.