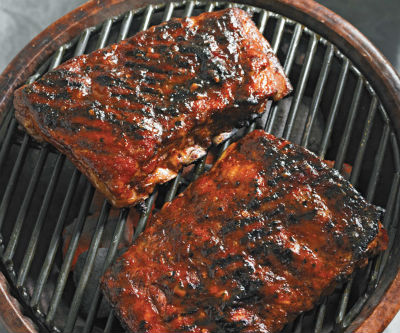 Ingredients:
Spareribs – 500 gms, cut into separate ribs
For the marinade:
Small Onions – 2, small
Lemongrass – 1 stalk, inner part sliced and outer layers discarded
Garlic – 2 cloves
Green Chilli – 1, small, deseeded
Caramel Sauce – 1 tsp (adjust as per taste)
Method:
1. Grind the onions, lemongrass, garlic and chilli to a smooth paste.
2. Mix this with the caramel sauce and pour over the ribs.
3. Ensure the ribs are well coated and keep aside for 1 to 2 hours.
4. Bake the ribs in a preheated oven for 20 minutes, turning once or twice.
5. Then grill for 5 minutes on each side, basting with the marinade, till well browned.
6. Remove and serve at once.
Note: image is for illustration purposes only and not that of the actual recipe.