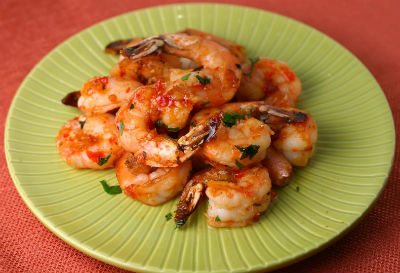 Ingredients:
Shrimps – 250 gms, cleaned
Shiitake Mushrooms – 100 gms, sliced
Thai Chilli Paste – 1 tblsp
Oyster Sauce – 2 tbslp
Spring Onion – 1, small, chopped
Red Chillies – 1, sliced
Chinese Cabbage – a small bunch, chopped
Salt as per taste
Cloves – 3
Oil as required
Method:
1. Combine the chilli paste and oyster sauce in a bowl.
2. Heat oil in a pan.
3. Saute the garlic, spring onions, red chillies, cloves, mushrooms and shrimps.
4. Cover with a lid and simmer on low flame.
5. Once the shells turn bright orange, add the chilli-oyster paste and stir well.
6. Switch off the flame and keep the pan covered for 2 minutes.
7. Meanwhile in a different pan, saute the cabbage and transfer to a serving plate.
8. Add the shrimps to the plate and serve immediately.
image credit: http://bigboldbeautifulfood.blogspot.com