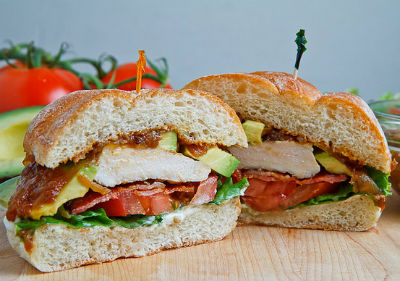 Ingredients:
Chicken Breast – 1, poached, cooked, shredded or cut into strips
Bacon – 6 slices
Mayonnaise – 1/2 cup
Lettuce – 3/4 cup, coarsely shredded
Tomatoes – 3, small, halved and sliced
White Bread Slices – 6
Unsalted Butter – 1 tblsp
Salt as per taste
Black Pepper Powder
Worcestershire Sauce
Method:
1. Butter the bread slices and toast buttered side up.
2. Spread mayonnaise on the unbuttered side.
3. Place some lettuce on 3 bread slices.
4. Add the tomato slices, bacon slices and chicken on top.
5. Sprinkle salt and pepper powder.
6. Add worcestershire sauce and cover with the remaining slices.
7. Press down and trim off the crusts.
8. Toast the sandwiches.
9. Serve hot, crispy and golden.