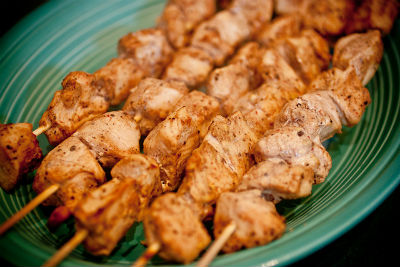 Ingredients:
Chicken – 1, whole, medium, skin and bones removed, cut into bite sized pieces
Garlic – 2 tblsp, minced
Mustard – 1 tblsp
Lemon Juice – 3 1/2 tblsp
Olive Oil – 1 1/2 cups
Tomato Puree – 1/2 tblslp
Thyme – 1 1/2 tsp
Method:
1. Combine the garlic, mustard and lemon juice in a bowl.
2. Gently add the oil and keep stirring till it is creamy.
3. Add the tomato puree and thyme. Mix well.
4. Marinate the chicken in this for 8 hours or overnight.
5. Thread the chicken on skewers and grill or barbeque.
6. Remove and serve.
Tip: You can also thread pieces of mushrooms, capsicums and onions in between the chicken pieces.
Subscribe to our Newsletter
Receive the latest recipes & kitchen tips !